Chicken Cashew Lettuce Wraps
About a month ago I was looking at my lab results from over a year ago and discovered that my cholesterol was high.
These results didn't reflect today, so I asked my doctor to run more tests. When my new blood work came back my cholesterol was still high and I knew that I was going to have to change my habits.
So I've been working on limiting some foods because of this I've had to find or create new recipes that my family loves.
And guess what I discovered…
Rice vinegar and honey are a great combo! Before I didn't even have these as a staple in my kitchen. How times change.
Honey is a really great ingredient to use especially if it is local, so if you're able to find someone who makes it in your area – I'd go get some. Did you know that it can help with seasonal allergies?
I like to buy organic, but you can get whatever works for you.
Below is one of the best chicken wrap recipes ever… and it's healthy! Plus it is really easy to make chicken lettuce wraps for dinner.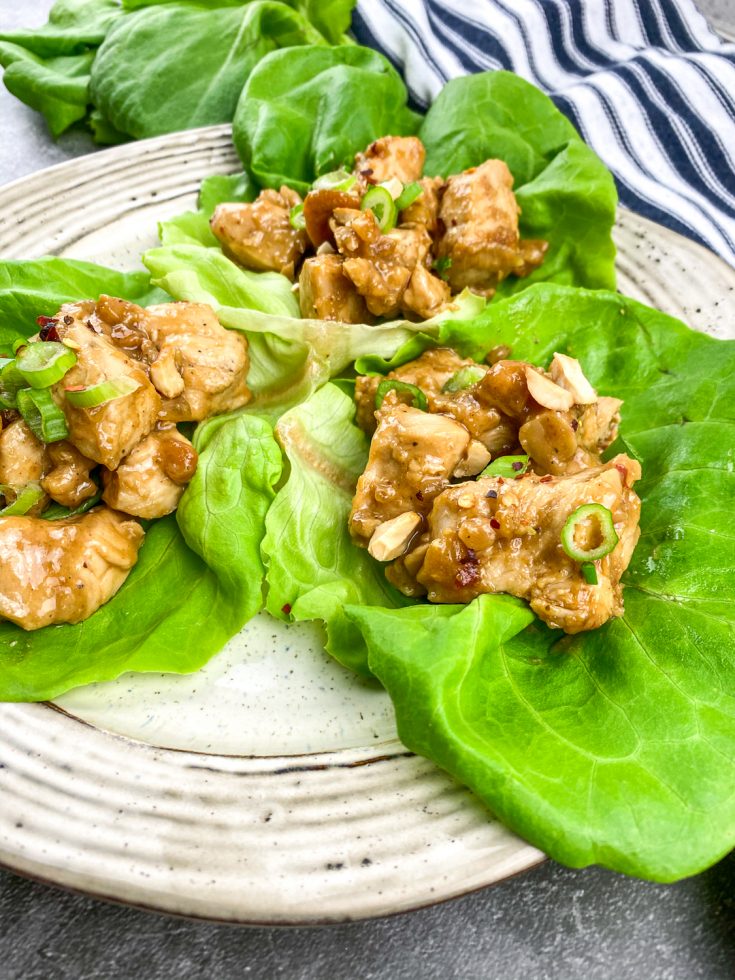 Chicken Cashew Lettuce Wraps
Ingredients
Sauce Ingredients:
1/3 c. tamari (gluten-free soy sauce) or coconut aminos
2 T. sugar-free crunchy peanut butter, room temperature
3 T. honey, preferably local
2 T. rice vinegar
1-2 large garlic cloves, minced
1 T. sesame oil
1/4 t. crushed red pepper flakes*
For more heat, use 1/2 teaspoon crushed red pepper flakes instead. I don't like spicy foods, but if you do add a little more flakes.
Ingredients:
1 lbs. boneless, skinless chicken breast, cubed
2 T. unsalted butter
3 large green onions, sliced (white and green parts separated)
1-2 cloves garlic, minced
Sea salt and black pepper, to taste
I large head Bibb lettuce, separated, rinsed, and patted dry
½ c. chopped cashews, lightly salted
Instructions
Whisk together the tamari, peanut butter, honey, rice vinegar, garlic, sesame oil, and crushed red pepper flakes in a large bowl. Add the cubed chicken breast and gently toss to combine. Set aside.
Heat butter in a large nonstick skillet set over medium heat. Add the white part of green onions and garlic. Season with salt and black pepper, to taste, and stir to combine. Cook, stirring occasionally until the onion starts to develop some color, approximately 2-3 minutes.
Pour the chicken and sauce into the skillet and stir to combine. Cook, stirring occasionally until the chicken is cooked through and the sauce starts to thicken approximately 8-10 minutes.
Remove from heat and divide the chicken mixture between the Bibb lettuce leaves. Top each wrap with the sliced green onions and chopped cashews and serve immediately. Enjoy!