3 Berry Smoothies to Help Get More Fatty Acids in Your Diet
We've always loved to have smoothies but over the last few weeks, I've made it a point to make sure we get them every day. By making smoothies for your family it is an easy way to add a lot of different things to their diet in a yummy way. 🙂
I like to add protein powder, fatty acids, and sometimes green superfood powder.
There are so many ingredients that you can add that will help boost your immune system and keep your body running smoothly. I like to add fatty acids like Omega-3 fatty acids because they give you amazing health benefits.
Fatty acids control the production of triglyceride levels. This means that this nutrient has a hand in preventing heart disease. Not only that, but Omega-3 helps control the symptoms of arthritis, asthma, and depression.
Being in our house more than usual I really want to make sure I'm doing what I can to help both our physical as well as mental health like depression.
How To Get Omega-3's In Your Diet Is With Certain Berries
One way to get this fat is through fish. Fish is a great source of Omega-3 fatty acid. But if you're someone who doesn't like seafood or you're allergic to it you can get your omega's through certain berries instead.
There are so many ways to get berries into your diet.  Check out ways you can easily add them to your diet:
Eating them fresh
Putting them on yogurt
Using them in salad
Adding them to recipes
Making smoothies
We like adding frozen berries to our yogurt, as well as including them on our plate during lunch and of course in our smoothies.
Below are a few smoothie recipes you can try.
Nothing Beats the Classic – Blueberry Smoothie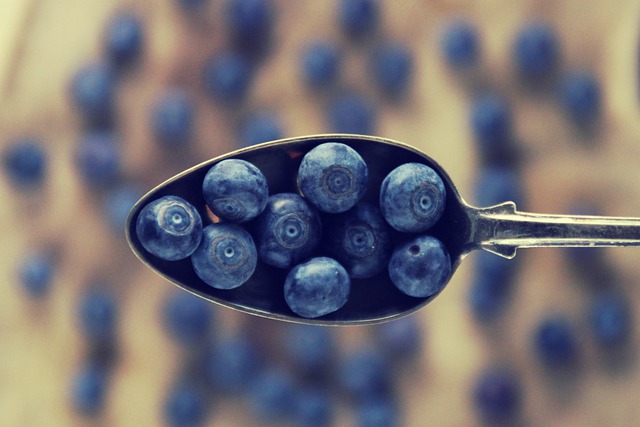 Our favorite berry is the blueberry. We like it because it is so good, but did you know that blueberries are a superfood and are ranked third on the list of fruits that have the most amount of Omega-3 fatty acid.
After blueberries are raspberries and blackberries.
In a blender, combine the following ingredient:
Fresh or frozen blueberries
1 cup of greek yogurt, and
Add low-fat (or almond) milk for the right consistency.
Optional: For a different flavor add spinach.
I normally use almond milk instead of milk, but you can also use skim, low-fat or another alternative. I also add flaxseeds for a richer dose of Omega-3.
Decadent but Healthy – Chocolate Raspberry Smoothie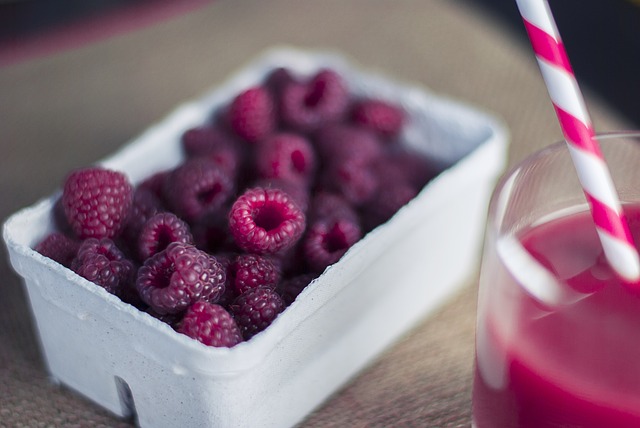 During Valentine's Day I'll buy chocolate-dipped berries for my son, but you can get the same great flavor with a smoothie. To get your Omega 3's try something a little different and use raspberries and chocolate instead of strawberries.
With 485 mg per serving, raspberries provide a lot of the omega that you need.
This drink would be easy to make.
In a blender, combine the following ingredient:
Fresh or frozen raspberries
1 teaspoon of cocoa,
1 cup of greek yogurt, and
Add low-fat milk for the right consistency.
Optional: For a different flavor add a banana.
Here is a tip. If you have bananas that are starting to go bad, peel them and put them in freezer bags. The outside might look brown and yucky, but the inside is still packed full of flavor and you can put them in smoothies. To make it easier on your blender break them in pieces before you freeze them or when you're putting the banana in the blender.
Strawberry Smoothie With a Twist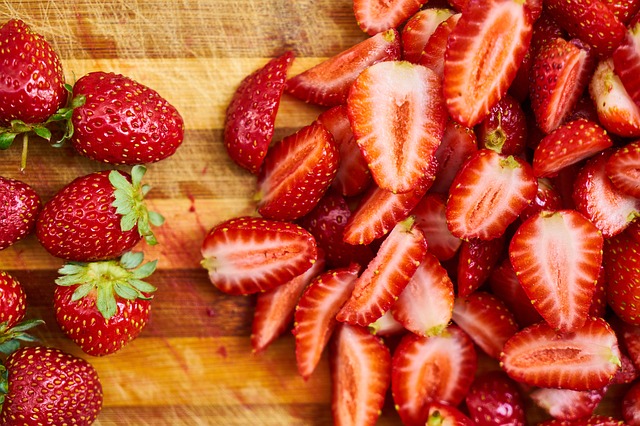 Like with the classic blueberry smoothie, there is much more you can do with a strawberry smoothie that is a lot healthier than adding a dollop of vanilla ice cream.
When you're making a strawberry smoothie add some orange juice to the mix and you'll get a fun twist to your drink.
To make this drink add the following ingredients and blend.
¼ cup of orange juice
half banana
½ cup of low fat milk
½ cup of water
1 tsp vanilla
1 cup of frozen strawberries
If you want to you could also add 1 tsp of sugar to give it a little bit of sweetness but I normally don't include any sugar. Combine all the ingredients and blend.
Viola, you've got a drink that has the omega-3 fatty acid and is yummy too!
Need more smoothie ideas? Watch the video below:
VIDEO:
Getting more Omega-3 fatty acids in your diet is only a matter of figuring out what fruits carry this fat and making a smoothie during the day.
Another way would be to add a fish supplement to your diet or eat fish. But just remember you don't have to because smoothies are definitely a great alternative!  
They are so refreshing and if you have children you won't have to fight them to drink it because they are so good.
~April
P.S. If you'd like more recipes that have superfoods in them you can find a great book called Superfood Smoothies: 100 Delicious, Energizing & Nutrient-Dense Recipes
P.P.S. Here is another cookbook by the same author, Julie Morris, and she incorporates more superfoods in your cooking. Superfood Kitchen: Cooking with Nature's Most Amazing Foods