Oregon Coast – Day 1 Long Beach WA To Newport OR
We started our Oregon Coast road trip on Mother's Day. My cousin and her family met us in Long Beach, WA because her son was going with us.
Explored Cape Disappointment With Family
The morning was spent exploring Cape Disappointment.  What I love about this park is the fact it is HUGE and has so much that families can do.  They offer not one, but two different lighthouses – as well as a bunker and other fun things for families to explore.
You'll need the Discover Pass or you'll pay $10 to park for the day.  If you plan to explore Washington you might want to go with the annual pass for $30.
We've been to the South lighthouse (called the Cape Disappointment Lighthouse) a few times, but haven't explored the one up North called the North Head Lighthouse so we decided to check it out more.
There are trails by the lighthouse and we explored them.
We explored the area with my cousin's family until noon and then we got in the car and started driving.
Stopped on Our Oregon Coast Drive To Take In the Beauty
Part of this stretch of the drive was so beautiful. We could see the ocean for miles. It was absolutely stunning. We stopped a couple of times when they had a view point or an area to pull off.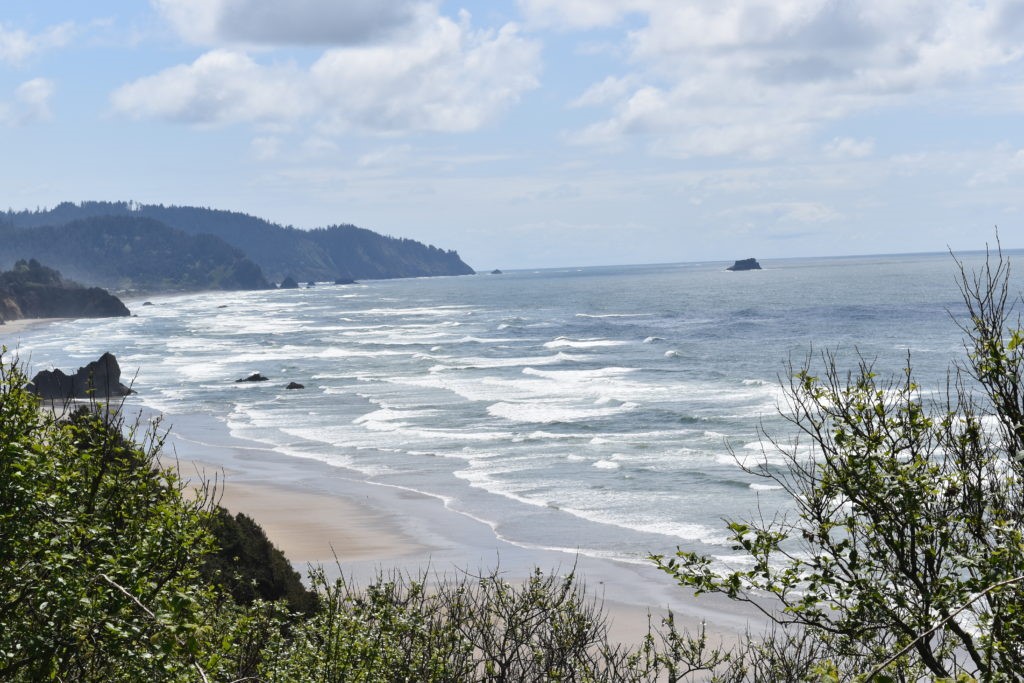 This was one of our long drive days. We spent hours in the car, but it was our first day on the road and we also spent quite a lot of time exploring the beaches and the beautiful views. It also didn't help that we didn't leave Long Beach until noon. At the time there was construction happening in some parts of the drive as well.
Oregon Beach Pit Stop
Here is one of the beaches we stopped at. The boys had fun building with driftwood, digging and playing in the sand. I love the freedom they have at the beach. Darien always likes to bring a shovel whenever we go because he can literally dig for hours.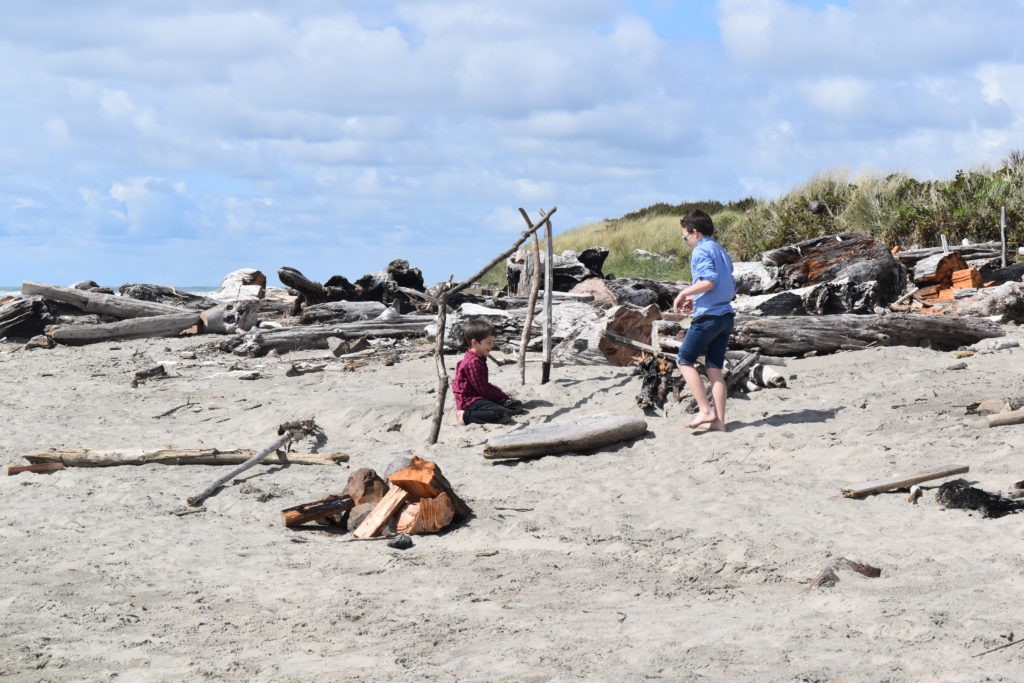 Arrived at South Beach State Park & Got Our Yurt
We arrive at the South Beach State Park and got our Yurt.  We got there after the park host had closed, but it was super easy to grab our key and get to our yurt.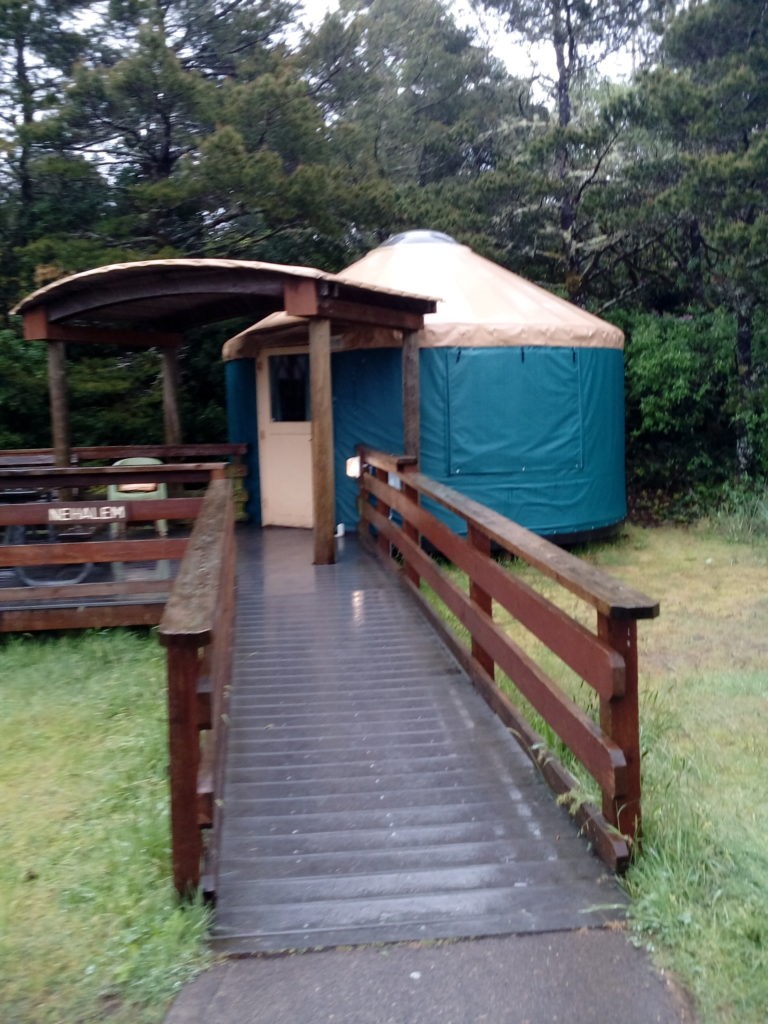 We've stayed at this park a couple of times and absolutely love it. There are so many things to do in Newport that I wanted to stay 2 nights here.
When you stay in a yurt it is very similar to camping. You've got to bring all of your bedding – pillows, blankets, etc. Plus when you leave you're supposed to clean out the yurt. If you want to experience the yurts it is harder to get them in the summer – especially if you're going on the weekend. Book in advance.
They are pretty comfortable and fit quite a few people. You get a futon that turns into a queen bed, plus a bunk bed that has a queen on the bottom and a single on the top. You'll also get a small table and two chairs. I like them because they also have electricity.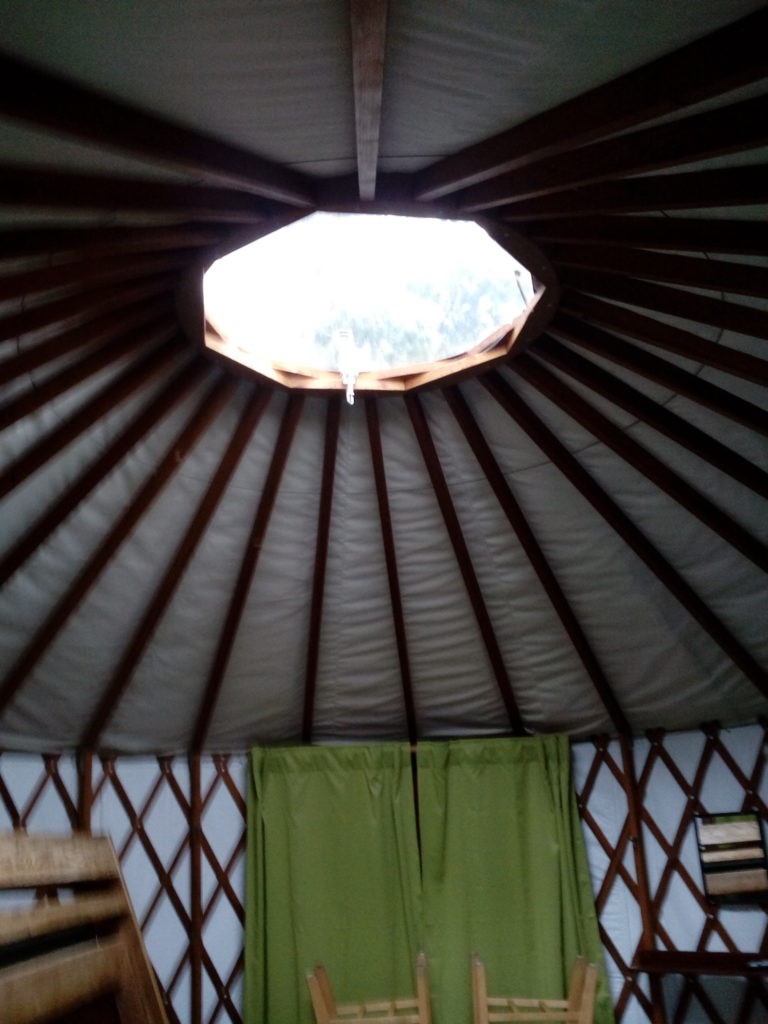 Outside you'll get a picnic table and a fire pit – so don't forget the firewood and marshmallows!
Since there was only three of us – my nephew slept on the upper bed and we (Darien & I) slept on the futon. I took the mat that was on the queen bed and added it to the futon. That way we had more cushion when we slept.
Tomorrow I'll share what we did in Newport.
~April
P.S. Have you ever stayed in a yurt or something similar? How did you like it?