Oregon Coast – Day 2 Fun Newport Oregon Activities
A couple of years ago Darien and I took a trip to Newport Oregon and stayed a couple of nights at South Beach State Park in a different yurt then we did this time. Darien was a couple of years younger and we spent most of the time on the beach so that he could slide down the dunes, dig holes in the sand and just enjoy the Pacific Ocean.
So when I was planning this trip I knew that I wanted to stay again, but this time I wanted to explore more than we did the time before.
Explore Yaquina Bay Lighthouse in Newport Oregon
One place I knew that I wanted to go to was the Yaquina Bay Lighthouse. This lighthouse was built in 1871 and is now listed in the National Register of Historic Places.
Plus it was just really fun to go from room to room looking at all the old furniture and household items that were used back then.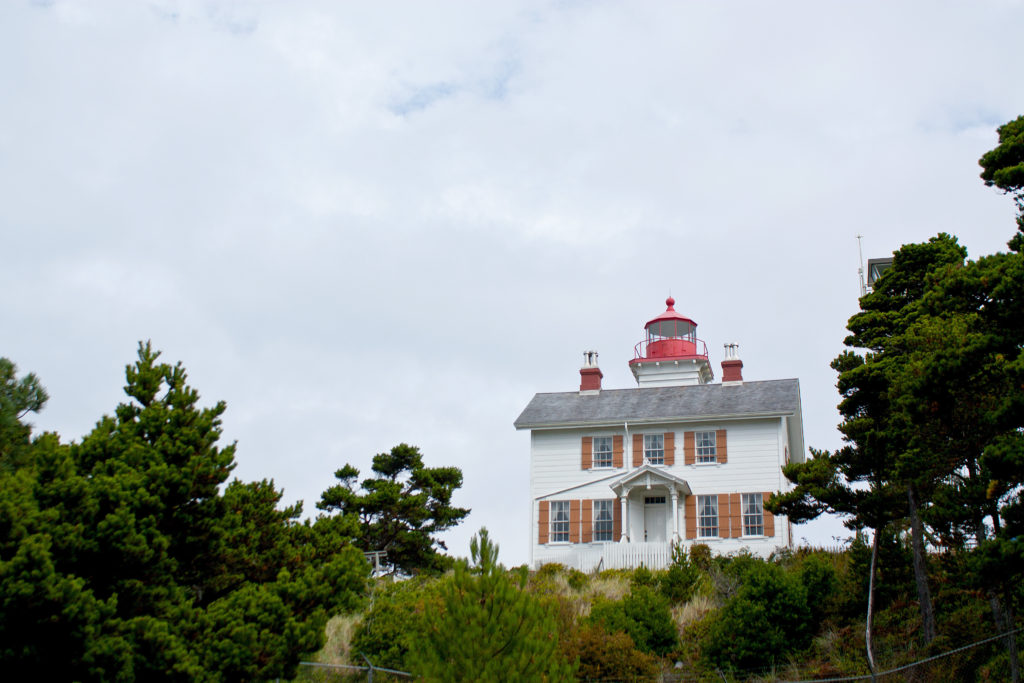 We spent an hour or so going through the house and exploring the outside. They have a viewpoint where you can look at the ocean. I was able to take some amazing photos of the Newport bridge.
Hours of Fun at Hatfield Marine Science Center
Another fun place that we visited was the Hatfield Marine Science Center and it works on donations only, so you can donate what you're able to and still enjoy all the amazing fun it offers.
Don't forget to check out the octopus right when you walk in the door.
We really enjoy this place because it has some great hands-on education fun for kids and adults. There is an area you can touch sea cucumbers, starfish, and anemones. Plan to spend time here because kids love it.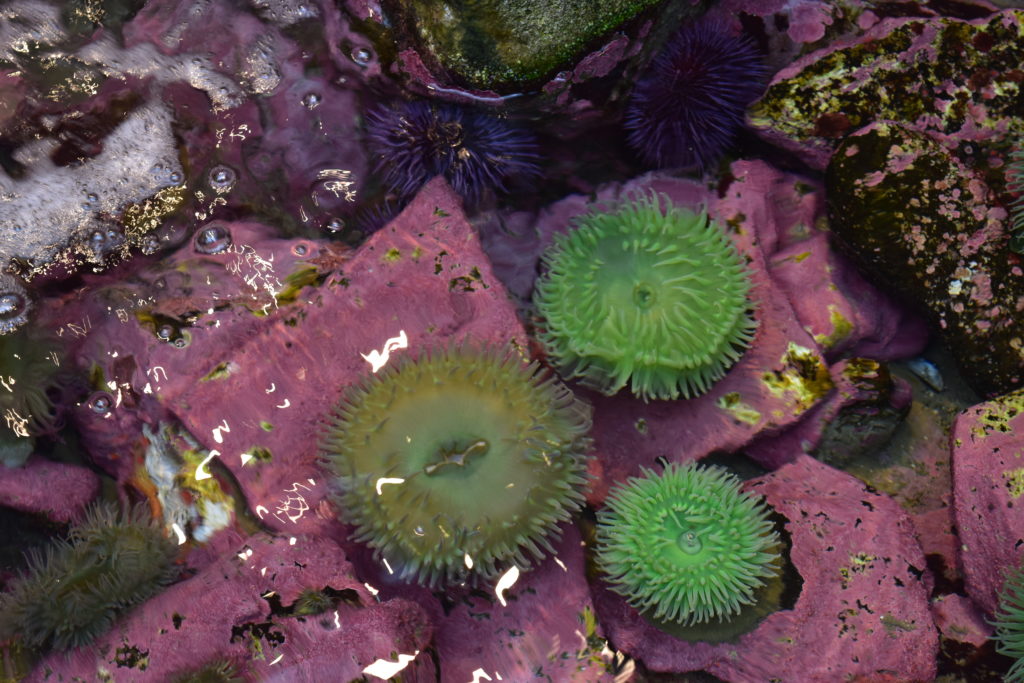 They've got a water section that shows how tsunami's work. People can build a house out of LEGO and then cause a tsunami.
Then the last section has a few amazing sea life that you can view, as well as information on them.
This isn't a huge place, but you can still spend a while going through it.
Natural Wildlife Area Misadventure
The last thing we did was to visit a wildlife area. It took us forever to find because I guess I can't follow directions. This particular place had a visitor center that we could have gone into if it was open when we arrived.
We did get to walk around and look at the birds and they had hummingbird feeders hanging up.
We drove up here because there was a nest of bab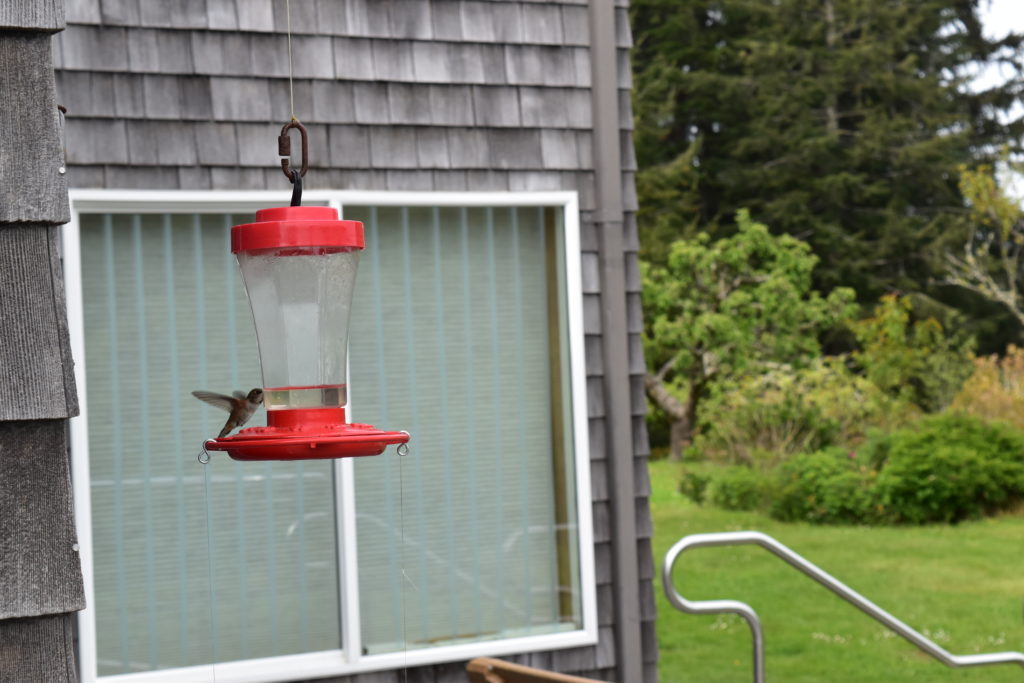 We drove up to this nature area because we were told that there was a nest that had baby ospreys. We were able to see them, but they were quite a distance away and no way for me to get a picture with the camera.
By the time, we made to the Nature Area we had already visited the Yaquina Bay Lighthouse, the Hartfield Marine Science Center and played in the sand. So once we saw what we drove up there to see – we left.
We were tired and headed back to our yurt at South Beach State Park.
There were trails we could have taken, so if you're interested in birdwatching I'd definitely look into it and see what places you can go.
RESOURCE: If you're interested in birding on the Oregon Coast check out this site: Discover Newport
S'More Time at the Beach
When we got back we made dinner and relaxed. The boys had to make sure that they got their fill of S'Mores too. It was great having a picnic table and fire pit provided by the park.
Last time I didn't know they had a fire pit and so we had yogurt. I'm sure the boys much prefer S'Mores!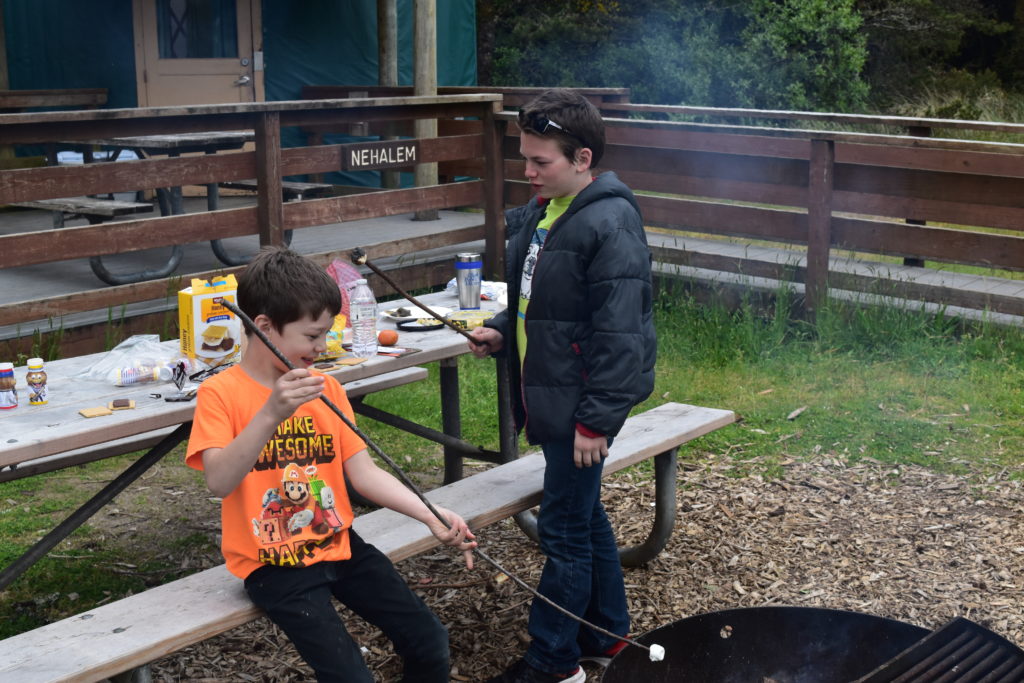 Because our destination was the Redwoods we weren't able to do even a small fraction of activities that you can in Newport. There are so many family-friendly things to do.
RESOURCE: To learn about more things to do check out the Travel Oregon site.
I love the Newport area, so if you ever have a chance I'd put it on your list of places to travel.
Tomorrow I'll talk about our drive down to Cape Blanco for the night. It was a full day of travel, but we still managed to have a great time and visit a few places.
~April
P.S. Did you see our journey on Day 1?  Take a look at the blog post: Oregon Coast: Day 1 Long Beach to Newport Drive