Plan Now – Gear Up For Fourth Quarter
Yesterday I saw this meme on Facebook that said,
"This has to be the most Mondayest Thursday Ever".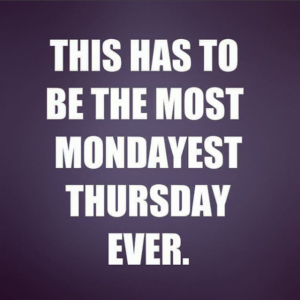 Is that how you felt? How has your week been going?
Holiday weeks are hard to do anything on – I totally understand. I've got a deadline to meet; otherwise, I'm not sure how productive I would have been.
A great way to spend your week is to plan ahead. We just started the third quarter and while some people might take a lot of time off during the third quarter…another option would be to plan for the fourth quarter because it is one of the biggest times to profit.
Watch what Gary V says about August. He normally uses the F word in his videos, but I didn't notice him saying it during this video. It is very short – so if you have 3 minutes, you should watch it.
What does this mean?
Get those opt-ins created and set up, follow that up with a funnel and an email sequence for your list.
Plan ahead for your Black Friday and December sales. Get clear on what sales you're going to have and then start to set up sales pages and create the promotional emails.
If you've got a blog that is seasonal – then start scheduling posts. This always works for the fall season because you've got back to school activities, Halloween, Thanksgiving, Christmas and then the New Year.
These might seem like a long time away, but the time will sneak up on you quicker than you realize.
Even if you're not making money online (yet) – there are options.  Grab the Mad Money Mugs training by Stuart Turnbull and start filling your mug shop full of mugs.  Or take a look at the training to create journal's at Createful Journal and create the journals to put in an Etsy store.
What are my plans?
Since I've decided to put HBA on hold (read about it in my blog post Knowing When to Quit – It IS Okay). I'm going to concentrate on Niche Starter Packs.
During the summer I plan to do quite a lot:
Take products off Niche Starter Packs (NSP) that aren't selling well or have never sold
Concentrate on creating products that my customers like (please let me know if you have any topic suggestions)
Building my list (this is happening through Giveaways so far, plus I'd like to create product videos, use FB ads, start utilizing Instagram)
Create systems for my PLR Creation and master it!  (okay maybe not master, but I want to try)
Start setting up sequences for my products and sales funnels
Create a recurring income stream (monthly membership, but not sure what that looks like yet)
Admin work – not fun, but important.    My PLR has been added to my site to be downloaded, but it needs to be transferred to Amazon S3 so that it doesn't take all of my hosting space.
Create a plan for 4th quarter – I usually go in thinking I'll do something, but I throw something together quickly the day before Black Friday starts
Blog consistently on this site
Work on NSP sales pages so that they convert better
I don't plan to do these every single day, but over the course of 3 months I should be done with some of the items on this list and have made a dent in other parts of it.
I know how important systems and checklists are – so as I work on some of these, I'll also make sure to document the step-by-step process.
So a great way to spend today if you're not feeling motivated to work on projects is to brainstorm and create a plan of action for the third and fourth quarter.
Have a great and productive day!
~April
P.S. Do you have a plan of action? If so, please share. If not, are you going to work on your plan?