Be Unstoppable – My Story
"Think back 5 years ago. Think of where you're at today. Think ahead 5 years and what you want to accomplish. Be unstoppable."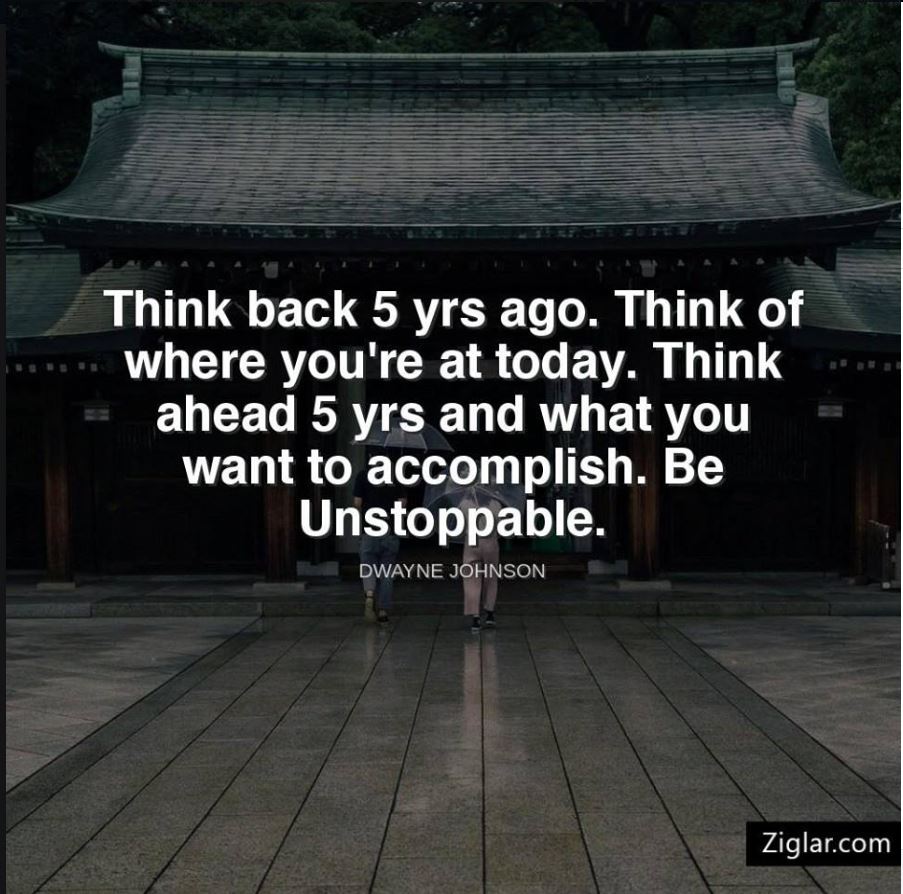 Believe you're unstoppable and then go after what you want. Are you able to do this?
A few years I had a hard time believing I was unstoppable but it is amazing what you can do when you push past those fears. You're capable of amazing things – always remember that!
I shared this image to my personal Facebook wall a while ago but I also took a moment to think back to where I was and what I was doing 5-years ago.
Where were you at and what were you doing? Is it vastly different than now?
Keep reading if you want to hear my story… (also comment below to tell me yours if you'd like)
What Five Years Looked Like For Me…
Five years ago, I was looking for a job and stressed out.
When I was laid off right before Darien was born I kinda fell into caregiving for my mom and then after that, I worked in the same field but with other people and once at a facility.
I've always been a caregiver by nature but I didn't want to do that as my day job – I wanted to work in an office because I wanted the regular hours and benefits it provided. Unfortunately by the time I needed to get a job in an office my skills in this field were several years old and I felt that they were outdated. So I started doing caregiving.
Being Unfocused & Then A Decision I Made That Changed My Life
I look at my life now and what I did to get here.
There were a lot of stressful nights as well as unfocused opportunities that I tried. I felt like it was never going to work for me.
My biggest change was when I decided to focus on one specific income stream (done-for-you content creator) and then I didn't change direction. This was extremely hard, but I did it.
Because of my decision, I was able to quit my job only two months after I launched my first product. I still can't believe I did it because I had no safety net whatsoever.
I definitely wouldn't suggest it to everyone. I was able to do it because I worked part-time and only brought home $300 a week (or so). I saw the results of that first product launch and the potential of affiliate marketing and decided to go for it.
I finally figured that if I averaged $60 every day instead of just 5 days a week I could make what I did as a caregiver and maybe even a little more. I also figured I could get another job as a caregiver if I needed to.
How My Life Has Changed
Now my life really is different.
I'm able to work on my business when I want to (usually early in the morning before my son wakes up) and then the rest of the time I spend being a mom. I get to homeschool and go to activities that we want to do or we can travel spur of the moment and stay a couple of nights at different places.
Before when I homeschooled I looked for free curriculum everywhere and for exercise we could do outside because I didn't have the money to do anything else. I had to budget very tightly for everything that we did.
This year I've been able to pay for a tutor for my son who was struggling to learn to read before this and I'm able to sign him up for all sorts of fun activities (OMSI, science classes, etc) and pay for him to go to indoor play areas.
Our life is definitely different and I'm very thankful.
My Big Goal
This year I've got a big goal. I didn't even dare to dream of this day ever coming when I worked for someone else. In fact, I didn't know this was a dream that I had. I always knew we'd move out of where we are but I thought we were going to move into a rental. Then I did a journal prompt back in December and you were supposed to pretend it was December 2019 and write about what had happened during the year. It was during this journaling I uncovered my hidden dream.
Once I discovered it buried I knew it was true and I've been working towards it. It is still hard to wrap my brain around the fact that I'm going to own a house one of these days…soon, but I'm still moving forward and we're both excited….although we have completely different ideas of what we want. Haha.
I'm sure we can compromise, but I'll, of course, have final say.  He wants property in the middle of nowhere. Hmm…that is fine for him, but I don't like the drive and know that it is gets harder as you get older if you've got health issues. Not that I do, but that might not always be the case.
Believe In Yourself – You ARE Unstoppable
Five years ago I had little to no confidence in myself or my abilities. I had to fight and claw through the mindset issues that were stopping me. The fear of rejection, the fear that no one would buy my products, and the fear of success as well as failure.
This wasn't easy but it was worth it.
You can do anything you set your mind to and you're worth it – so fight for it.
I'd love to hear your story from five years ago vs today or what is holding you back – please share below.
~April
P.S. Believe it. You are unstoppable!
Would you like to keep this? Pin It: