Buffalo Chicken Dip Crock Pot – An Easy & Spicy Recipe
A Favorite Crock Pot Buffalo Chicken Dip Recipe – You'll Take To EVERY Event
Last year my brother made a dip for the holidays. It was a Buffalo Chicken dip. I'm not a big fan of buffalo wings and so I thought I wasn't even going to bother trying it.
I was wrong! Holy cow – this dip is so fantastic. You've got to be super careful though because you'll eat the whole bowl before you even realize it. This dip could even cause problems within the family because everyone fights over it.
I'm only half-joking here. This definitely isn't a low-fat or healthy dip, but it sure is a fantastic tasting one.
Easy Buffalo Chicken Dip – Where to Take It (EVERYWHERE)
What I liked about this dip (besides the fact I didn't have to make it!…at least the first time) was that it was a quick Buffalo Chicken Dip to make. This is definitely not only a "holiday's" dip – it'll make an easy appetizer perfect for tail-gaiting parties and other informal get-togethers.
Both of my brothers watch football during the fall and that is where the one learned how to make this amazing recipe for Buffalo Chicken Dip. All I can say is yum!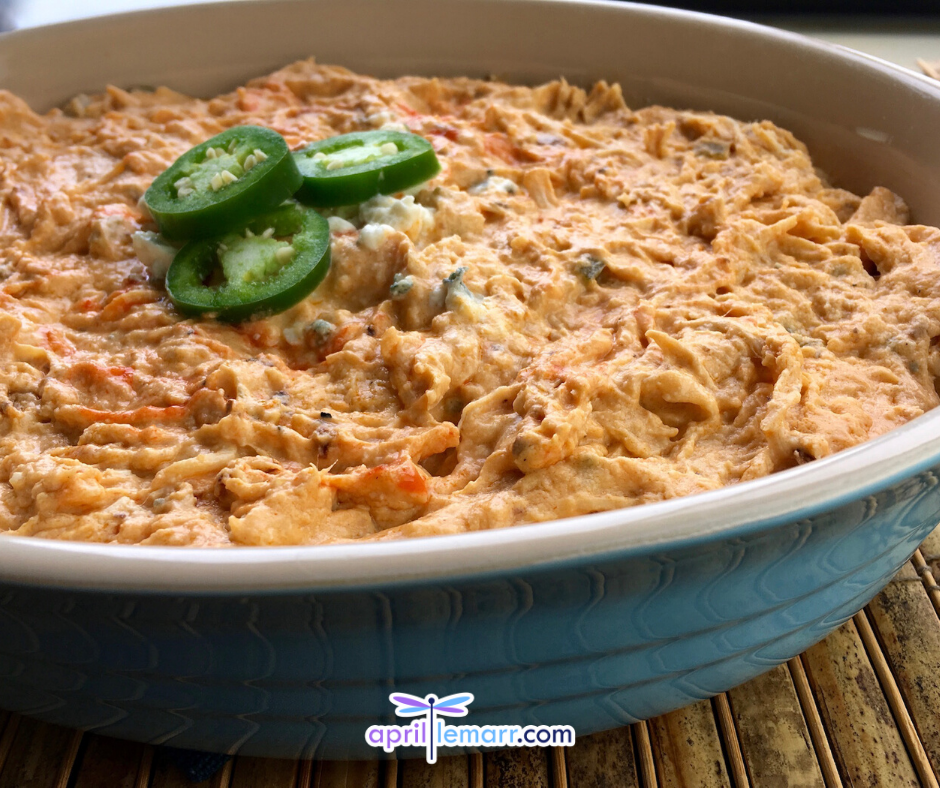 3 Easy Steps to Make the Crock-Pot Buffalo Chicken Dip!
Add a Slow Cooker Liner (optional), but it makes for easier cleaning.
Toss all the ingredients into a slow cooker crock.
Turn on the crock pot
Viola! You have a tasty and delicious dish your guests will love.
But let's get real here – chances are your guests aren't going to get any because you'll eat it all!
TIP: The amount of heat (spicy heat) can be adjusted easily to suit individual tastes by increasing or decreasing the amount of hot sauce and jalapeno used. In fact, I'm a whimp when it comes to something being spicy and I still loved this.
This is a gluten-free dip, but we used crackers and you can too. Or even crusty bread would be good.
Prep time: 10 minutes
Cook time: 3-7 hours
Serves: 6-8
Ingredients:
2 lbs. boneless, skinless chicken breasts
Salt and black pepper, to taste
½ c. chicken broth, preferably organic* – like this Swanson Organic Stock, Free-Range Chicken here
3 stalks celery, very finely chopped
2 8-oz. packages cream cheese (use reduced-fat cream cheese for lower calories)
¾ c. Frank's hot sauce
1 small jalapeno pepper, finely minced
6 oz. crumbled blue cheese, divided
1 c. Mozzarella cheese, finely shredded
3 green onions, tops sliced (optional)
1 small jalapeno, sliced (optional)
*Tip: You may need to add additional chicken broth before serving to achieve desired consistency.
To Serve:
Celery stalks
Carrot sticks
Buffalo Chicken Dip Crock Pot Directions:
1. Season chicken breasts with salt and black pepper, to taste. Add chicken breasts, broth, celery, cream cheese, hot sauce, jalapeno pepper, and 4 oz. crumbled blue cheese to the crock of a 5 or 6-quart slow cooker.
Cover and cook on high for 3-4 hours or 6-7 hours on low.
2. 30 minutes before serving, remove lid and shred chicken using two forks.
Add shredded Mozzarella cheese and stir to combine. Add cover and continue cooking until cheese is completely melted.
3. Remove lid and garnish dip with remaining blue cheese, sliced green onions, or jalapeno, if desired.
Keep warm and serve with celery stalks and carrot sticks.
If you want to go one step further you can take it out of the slow cooker and add it to a stoneware dish to make it look pretty for your get together – like this one in the Le Creuset Stoneware.
Look at this Gorgeous Blue Dish by Rachel Ray (to serve the dip in!):

Rachael Ray Cucina Stoneware 2-Quart Oval Baker, Agave Blue
This Spatula is the BEST That I've Found
My favorite spatula is actually called a Mix 'N Scraper from Pampered Chef. I got it free when I bought a certain amount of product from a party once and this is kitchen utensil that I LOVE. I would never have bought it for myself, but now I can't even imagine my kitchen without it.
All the other brands that I've had either don't last long and then if you use it in red sauce it turns pink or if you accidentally forget it in a hot pan it'll melt or get soft – not this spatula! It is amazing. I highly recommend it to everyone.
The simple truth is that it doesn't matter what you put this Easy Buffalo Chicken Dip – people are going to love it!
Let me know what you think about this dip!
~April
P.S. Do you have a dip that you take to all of your potlucks, tailgate parties or holidays that people love? Please share I love trying new recipes.
Wanna Save This For Later? Here is a PIN: